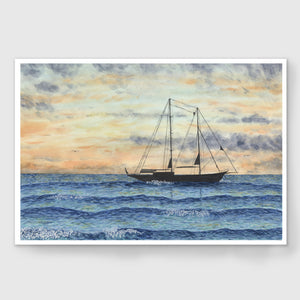 Viridian Voyage Limited Edition Print
"Viridian Voyage" Ships And Seas Collection

I've always loved the look of ships and the idea of a voyage across the sea. Thanks to a motion sick stomach I'm not sure I'll ever make it happen... I knew I wanted this painting to be something about a Voyage and my sister helped me come up with the world Viridian, meaning green. There is a teal green in the waters that can't help but captivate a heart at sea!
DETAILS & QUALITY:

My Fine Art Prints are printed from my original watercolor painting, painted on hotpress or coldpress paper then printed at a professional Lab on Archival 100% Cotton, Acid-Free Paper, Certified with no Optic Brighteners. 
Limited Edition
11x14 Edition of 100
18x24 Edition of 50
Print is limited to a run of each edition by size (once sold out they wont sell again)

Signed and numbered by Emilie Taylor and accompanied with a certificate of authenticity
SHIPPING:
Free Standard USA shipping with tracking
International Shipping will be responsible for the shipping fees and any custom or vat fees that may apply after


Please Allow 1-3 days to process your order! and 5-7 days for sizes bigger than 11x14
IMPORTANT NOTE:

1. The photo frame is not included.
---
We Also Recommend
---